Back in July
, I linked up with
Ashley
and
Neely
for their Sunday Social blog. If you never got a chance to view that blog post, you must do that now!
Click here to view that Sunday Social on Travel!
They do this every Sunday and it's so fun to see everyone's responses to the questions. The same questions for everyone, but very different answers from everyone! Every Sunday, they have a different set of questions for the blogger (me) to answer. This week, they are going back to their original Sunday Social: All About Your Blog! I think this is a good time to connect back with Sunday Social, since I'm just now getting back into the swing of things!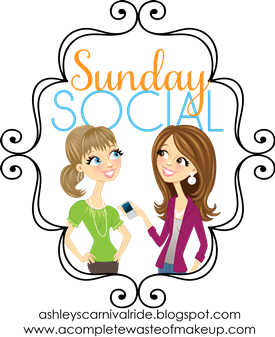 1. What is the name of your blog and how did you come up with it?
My blog is titled "Beyond the Gradebook." I started blogging with my photography blog, but honestly, I was having a hard time introducing personal posts, like the posts here, on that blog. Mixing the business and personal was just something I wasn't doing a good job at. Enter "Beyond the Gradebook." I created this blog as my personal blog. A place to share my thoughts. A place to interact with others around the world. It's been so much fun!
2. What do you love the most about blogging?
Meeting new people from all over who have the same interests as me. A big reason I created this blog was to share educational resources, tips and tricks. I haven't had a chance to really do this yet, but it's coming! I follow so many amazing teacher blogs and have learned so much from the bloggers I've met, that I wanted to give back like they gave to me!
3. What are your 2 favorite posts you've written?
Yesterday's post, The Maine Attraction, is definitely my favorite. I love to travel and I love Maine! My second favorite post is Gray Walls. There isn't much on that post, but it means so much to me! I'm so excited to have my own house and to be able to finally employ all the design ideas that have been in my head for the past (many) years! Gray Walls is a start to my new life.
4. What is something you'd want to tell someone just starting out in blog world?
Write. Every day. And everything. Blog something every single day. Even if it's just a picture of something you did that day, or a quote you have recently heard. Keep in the swing of the blogging process and don't back down. If you take a break one day, it will be hard to get back into the blog. Another tip of advice would be to find a Linky Party, just like this Sunday Social, to join. There are so many great Linky Parties out there, and they are a fun and easy way to blog!
5. Biggest blogging learning experience you've had?
Blog for you. I used to think that no one wanted to read what I wrote and it was a waste of time. If nothing else, it's my online journal. Now, I don't care if people read my posts or not. Yes, I do appreciate those who do. But, I don't stress over the statistics. I write for me, whether people are reading the posts or not.
6. Give us 3 blogs we NEED to be following that you love.
First, and foremost, you need to follow 8Six11. Unlike most of the blogs that I follow, this is one blogger that I personally know. I photographed Holly's wedding. She is one of the sweetest girls I know! I just love following her site because we share so many common interests. Baking, design, photography, travel. And she has the cutest dogs!
Classroom Freebies is another blog you must follow. That is, if you are a teacher! There are so many great contributors to this blog. And it's exactly what it says it is. A blog full of Classroom Freebies!
The third blog I think you should follow is Two Twenty One. Chelsea has got some fabulous style and some great ideas! Her blog is wonderful. But don't just take my word for it, make sure you check it out as well!
I couldn't find a blog button on her blog, so all you need to do is click this link:
here!
What are you waiting for? Go to google, start a blog, and share with the world! Can't wait to read what you have to say!